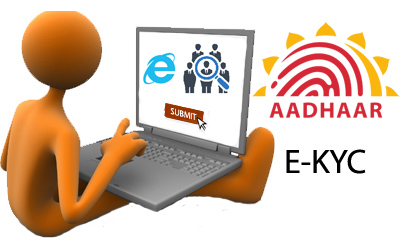 Click E-KYC to start your eKYC process. Enter your PAN and Date of Birth to initiate registration on HDFC MFOnline Investor portal. If your KYC is not completed or rejected, then, system shall automatically redirect you to complete eKYC process.
Investor needs to enter his phone and email ID to receive OTP to proceed with eKYC process. Once received, he need to enter BOTH the OTPs received on mobile and email to proceed further.
For Proof of Identity, Investor needs to provide PAN card copy and input details as per proof.
For proof of address, investor needs to upload Aadhar XML copy along with share code/password and provide details as per proof.
Provide additional details like Gender/Marital Status etc as required.
Upload bank details by providing cheque leaf copy. Please ensure that your name in bank is same as provided in PAN or this validation may fail. After uploading cheque leaf, to validate bank details one rupee will be credited to investor's account.
Investor will then need to eSign the KYC form by either uploading their sign on blank paper or Live Sign the document with mouse/finger.
Investor will then get a preview of the documents and details submitted for eKYC.
At the end of the form, to eSign the document, investor will receive OTP on their Aadhar registered mobile/email which they need to validate to sign the form. On clicking on "Verify OTP" investor's form will be submitted.
On successful submission, investor will see message on screen that their KYC is under process. A copy of their KYC form can be downloaded from screen or from email received by investor.
100% paperless process, with no requirement of any printing or physical document proof to be submitted

End to End investor based solution. No IPV requirements of distributor, making this much more user friendly

Unlike earlier Aadhar based EKYC, this does not have any amount restriction. (No Rs 50,000 limit)

This is digitally signed, therefore allowing investor to transact in both physical and electronic medium post successful verification